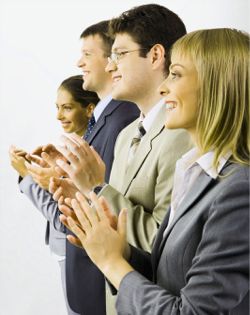 "Where do I begin? 'Thank you for an incredible learning experience' doesn't seem like nearly enough! Your recent session of 'The Art and Skill of Public Speaking & Group Presentations' was one of the most useful and informative sessions I've seen in my almost 20 years of training and organizational development experience. The Experienced Manager participants of the Aon USA Leadership Development Program found this class to be content based, highly participative, and relevant as they prepare to deliver strategic recommendations to a panel of Aon senior executives. Many discovered skills and capabilities they didn't even realize they had. And for that...I am most grateful to you."

- Talethea M. Best - Director, Aon Leadership Development, Aon Affinity Insurance Services

"Thank you so much for the motivational Keynote Speech that you gave at PAMIC. The enthusiasm and energy generated during your speech spilled over through the entire length of the Convention. Numerous individuals approached me, whether in the conference room, in the hallway, or on the elevator, to let me know what an excellent choice of Speaker we made. I know for a fact that I was not the only Convention Committee Member to have been approached; you were, also, the subject of conversation at many of the 50 tables at the Dinner later that evening. I am sincerely grateful to have worked with you and hope to have the opportunity to do so again in the future."

- Yoama Pons, AMIM, Vice President, Property Underwriter, Munich Reinsurance America, Inc.

"Carol Kivler came to Tilcon New York Inc., energized and enthusiastic about working with us to create a Leadership Development Program. Carol was a breathe of fresh air. Her background, knowledge and effective teaching methods gave our managers a "new" set of tools for each of their tool boxes. Carol continues to bring to Tilcon a variety of trainings that our managers and employees benefit from on a daily basis. Carol's teaching methods are excellent. She holds the participating managers interest from start to finish. Their feedback has been positive with each participant taking something away from the training. Tilcon is pleased with the results of the trainings and continues to reap the positive results from Carol's knowledge and teaching style."
- Anne Poltorak, Tilcon

"Thank you for the gift of you. The concepts that you have introduced in our organization have 'stuck' surprisingly well. In some cases your name has become synonymous with many of the positive concepts and messages that you have brought us. Like the 'cha-ching' of the bells that you bring to class, the sound of the name 'Carol' is often the only reminder that is needed for folks at Micros to remember not to interrupt each other.
"You've touched almost every person in our organization and have gained everyone's respect and confidence. You are both a real person and a genuine professional."
- Ivanka Olesnycky, Human Resources Director, Mikros Retail System

"What a dynamic presentation! We're a group of 'been there, done that' women and the consensus is that this was one of the most worthwhile seminars we've ever attended. Each of us took away points that will help us build successful relationships with the problem people we encounter every day."
- Greater Somerset Hills Business and Professional Women - Dealing with Difficult People

"Having been a customer service rep for over 20 years, I thought I'd knew it all. Lynette offered an innovative perspective on what she calls 'customer satisfaction'. While worth the investment of time".
- Customer Satisfaction, American European Insurance

"I witnessed a professional breathing life into these principles; I observed a master practicing her craft. The insight I gained and the seeds that were planted, by watching Carol, will bear fruit for weeks, even years, as I practice the techniques I learned in this course."
- Lost Corner Learning - Train the Trainer

"Your presentation on powerful communication skills was both interesting and extremely informative. You gave such practical suggestions and advice that the staff is still talking about how enjoyable you were to listen to. This was our best staff day yet and we owe a lot of the praise to you."
- The Arc of New Jersey - Powerful Communication Skills

"I did everything I could to get out of coming to 'another waste of time' training. Thank goodness, I wasn't allowed to opt out! This was so much more than I expected! I will have to thank my director!"
- Fox Rehabilitation - Change Management

"Carol is a wonderful instructor, she is positive and helpful. She had herself well-prepared and made it very interesting. Carol used very good examples and let us release stress through toys and role-playing. It was neat how she had us interact. Meeting her made it a memorable day."
- Bell Atlantic- Telephone Courtesy/Customer Service

"Best training course I've attended in 32 years with the department." "Excellent teacher and presenter." "When can we take another course with Carol?"
- Department of Labor, Proofreading & Editing

"Lynette made leadership training worthwhile! She was delightful, knowledgeable and prepared!"
- Gamesa Corporation - Leadership Skills

"Dynamic delivery." "A wonderful motivator." "I learned more in one day than I would in a college semester."
- Mt. Sinai Hospital, Executive Skills for Administrative Assistants