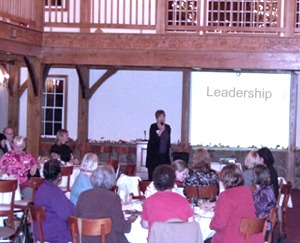 Cheerleader to Your Soul - Educating, Encouraging, and Entertaining
Carol A. Kivler is a born teacher. She has made it her life's work to help people learn the business and personal skills they need to succeed. And she uses her innate ability to bring out the best in people as she empowers them with the greatest gift of all - "the gift of knowledge."
Putting into action her unique style, Carol delivers information in an entertaining, interactive dialog that makes people pay attention - and learn. In fact, handwritten, personal thank-you notes from program attendees attest to the fact that time after time, Carol not only reaches and teaches people, she also changes lives. Whether she's telling one of her trademark Kivlerisms to help a training group remember something important, or coaching CEOs one-on-one, Carol keeps her audiences listening, learning, and loving it.

Keynote Topics:
Bringing Out the Best in Yourself and Others
It's Time for Me
Working Women And The Art of Balancing: Finding Time To Nourish Your Soul
Will I Ever Be The Same Again?
Life Lessons for Women
Embracing Change
Balancing Acts
Working Women Don't Have Wives
Motivating Without Money
Depression in the Workplace
Women and Depression

Changing Perceptions Around Mental Illness – Instilling Hope – Ending Mental Health Stigma
In addition to being a business speaker and international executive coach, Carol Kivler is also a passionate advocate for mental health issues. A survivor of four bouts of treatment-resistant depression, she battled this devastating and debilitating mental illness with courage and faith to a full and sustained recovery. Her presentations resonate with mental and medical health professionals, consumers, their families and friends, inspiring compassion, understanding and hope.
Carol is an authentic, riveting, and memorable speaker. Her high-energy and compelling mental health presentations change thinking and encourage participants to move from mental illness to the realm of mental wellness.
Topics Include:
The ABCs of Recovery from Mental Illness


Demystifying ECT: What You Don't See in the Movies


Depression in the Workplace: Starting the Dialogue


Mental Health Recovery Boosters!


Putting the Face of Hope on Depression


The Other Side of Psychosis


Women and Depression: Awareness, Hope, and Recovery
"You were absolutely dynamite! Your discussion was not only informative, setting a positive example for others who suffer from clinical depression, but also very powerful emotionally. You should be very proud of your own journey. You are certainly an inspiration to me!"
- Bettina Gregory, Host, GoodLife TV Network